You are here
Back to top
Time and Navigation: The Untold Story of Getting from Here to There (Paperback)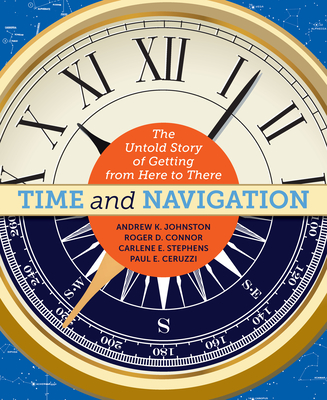 Description
---
If you want to know where you are, you need a good clock. The surprising connection between time and place is explored in Time and Navigation: The Untold Story of Getting from Here to There, the companion book to the National Air and Space Museum exhibition of the same name.

Today we use smartphones and GPS, but navigating has not always been so easy. The oldest "clock" is Earth itself, and the oldest means of keeping time came from observing changes in the sky. Early mariners like the Vikings accomplished amazing feats of navigation without using clocks at all. Pioneering seafarers in the Age of Exploration used dead reckoning and celestial navigation; later innovations such as sextants and marine chronometers honed these techniques by measuring latitude and longitude. When explorers turned their sights to the skies, they built on what had been learned at sea. For example, Charles Lindbergh used a bubble sextant on his record-breaking flights. World War II led to the development of new flight technologies, notably radio navigation, since celestial navigation was not suited for all-weather military operations. These forms of navigation were extended and enhanced when explorers began guiding spacecraft into space and across the solar system. Astronauts combined celestial navigation technology with radio transmissions. The development of the atomic clock revolutionized space flight because it could measure billionths of a second, thereby allowing mission teams to navigate more accurately. Scientists and engineers applied these technologies to navigation on earth to develop space-based time and navigation services such as GPS that is used every day by people from all walks of life.

While the history of navigation is one of constant change and innovation, it is also one of remarkable continuity. Time and Navigation tells the story of navigation to help us understand where we have been and how we got there so that we can understand where we are going.
About the Author
---
ANDREW K. JOHNSTON is a geographer at the National Air and Space Museum, where he researches earth science and environmental change and performs outreach on earth and space science. ROGER D. CONNOR is curator of instruments and avionics at the National Air and Space Museum. CARLENE E. STEPHENS is the curator of timekeeping at the National Museum of American History. PAUL E. CERUZZI is the curator of aerospace electronics and computing at the National Air and Space Museum.

The Smithsonian's National Air and Space Museum possesses one of the largest collections of aviation and space artifacts in the world. The Smithsonian's National Museum of American History explores the richness and complexity of the nation's history.  Both museums welcome millions of visitors a year, making them among the most visited museums in the world.
Praise For…
---
GEEK DAD

The book focuses closely on the history of navigation and how it is connected to time. If you have ever wondered, 'Just how did they do that?' in reference to navigation, this book (and the exhibits) have you covered. Find out where we started, and marvel at how far we've come.

LIBRARY JOURNAL
This companion to an exhibit of the same name at the Smithsonian National Air and Space Museum is a slim but impressive volume. Johnston, a geographer at the museum, and curators Roger D. Connor (instruments and avionics), Carlene E. Stephens (timekeeping), and Paul E. Ceruzzi (aerospace electronics and computing) explain that there is a definite but often overlooked link between time and place. Understanding how the two are related has been integral to the evolution of navigation. In material that is articulate and flawlessly logical, the authors show, step by step, how developments in marine navigation gave way to air and then space navigation. In turn, developments in space navigation took the practice from a highly specialized, erudite science to an everyday tool. Presented chronologically, the narrative unfolds as the authors explain how the political, economic, scientific, and military ambitions of a variety of countries and peoples built on one another—the 1848 California gold rush had an influence on shipbuilding and the implementation of new sea charts, for example. A feature called "Navigation Gone Wrong" appears occasionally and highlights failed expeditions throughout history, such as Amelia Earhart's final flight and the destruction of the spacecraft Mariner I. Another occasional feature called "Meet the…" introduces readers to influential figures such as the teacher Philip Van Horn Weems and the clockmaker William Cranch Bond. Discipline-specific terms such as chronometer and astrolabe are defined in-text. The 232 full-color and black-and-white illustrations consist of scores of photos, maps, and drawings. VERDICT Making a complex topic accessible to lay people, this title is a must-have for libraries serving general adult populations.—Jennifer Prince, Buncombe Cty. P.L. Syst., NC

PUBLISHERS WEEKLY

Entertaining and packed with information, this collaborative volume from the National Air and Space Museum and the National Museum of American History covers the history of navigation from the days of the astrolabe to global positioning satellites. The emphasis is on the importance of time in establishing position. From the 16th century, European colonizing nations offered prizes to anyone who could invent a clock that would work at sea. The first section describes these various clocks and the development of the ability to chart a course using longitude, which would enable transoceanic sailing. When humans took to the air, they discovered that they needed more exact equipment to find their way, and during WWII the application of radar pushed navigation into the stratosphere. This in turn led to the developments in timekeeping that allowed even more precise navigation to the moon and beyond. The work closes by addressing current means of navigating via smartphone. Copiously illustrated, this book contains fascinating anecdotes as well as a wide range of technical information to complement the stories of those who strove to improve the means of human exploration. (May)

CHOICE

This handsome, oversize volume covers the history of navigation in sea, air, and space, from the sea voyages of the early Chinese, Egyptians, and Scandinavians through the development of modern GPS techniques.  Johnston and his three fellow authors (all, National Air and Space Museum) describe the uses and importance of astrolabes, sextants, and other historic instruments.  Timekeeping was also vital to ocean navigation, and the book details the difficulties of inventing clocks that would work and keep accurate time at sea.  The advent of flying brought new navigating challenges, and tools such as radio navigation systems were developed.  Space flight posed yet greater problems for navigators and demanded more precision than ever before, and also led to innovations that improved navigation on earth.  The ability to launch satellites into orbit made possible the Global Positioning System, which is today the basis of almost all mapping applications and devices.  Profusely illustrated with photographs, maps, charts, and color drawings, Time and Navigation will be excellent for arousing interest in navigation and its history, and for providing basic facts for student reports and projects.
--A. C. Prendergast, University of South Alabama. Summing Up: Essential. All levels.