You are here
Back to top
Funny How Life Works (Hardcover)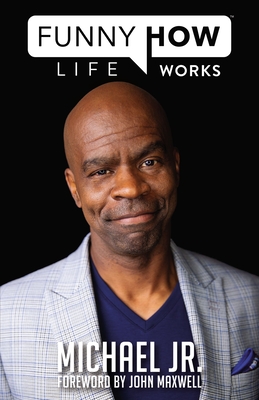 Description
---
"Michael's stories, accumulated throughout his own unusual journey, reveal important truths you and I can absorb and apply to make our lives better, and to improve the lives of everyone around us. And of course, you'll find yourself laughing out loud as you read." --John Maxwell
Funny How Life Works is a behind-the-scenes look at the life and career of comedian Michael Jr. Infused with the same laugh-out-loud humor and practical wisdom that define his stand-up acts, Michael shares a collection of stories meant to inspire readers to embrace their purpose--their "punchline."
Michael Jr. proposes that life is more similar to comedy than we know. Rather than assuming that our days are random and obstacles are unfortunate, Michael Jr. encourages readers to strategically embrace each life event as part of a setup, leading to their punchline.
This unique look at life is demonstrated by stories from Michael's own personal and professional life. From unruly hecklers to an unexpected Tonight Show audition, Funny How Life Works is filled with humor and seasoned with wisdom. It is more than a memoir--it's a source of inspiration.
What others are saying:
Michael Jr. is exceptionally gifted at combining funny stories and spiritual principles. He will have you laughing and crying on the same page. If you are looking for spiritual inspiration or have a strong desire to make a difference, Funny How Life Works is the book for you.
--Craig Groeschel, Pastor of Life.Church and New York Times Bestselling Author
At first glance, some might take Michael for a funny guy who can make light of any situation. While he is that - and you will find no lack of humor in these pages - he's also so much more. Michael spreads joy everywhere he goes. Along with that joy is a message of deep faith in the Father who loves us unconditionally. In a time when we need hope and humor more than anything, Michael delivers both in droves.
--Andy Stanley, Author, communicator, and founder of North Point Ministries
"Michael Jr. is not just one of the funniest people I've ever met--he's also one of the smartest. He's so skilled at hiding his wisdom in humor that I wanted to call his book a Trojan horse, but the metaphor fell apart when I realized the surprises inside were intended to help rather than harm. Come for the laughs; stay for the life lessons."
--Adam Grant, New York Times Bestselling author of Think Again and Give and Take, and host of the TED podcast WorkLife
I think sometimes, amidst all the laughter, people forget that great comedy comes from great insight. It's born from the ability to see the world, deconstruct it and rebuild it in a clever way. That's exactly what Michael Jr. has done with his new book. If you want to laugh and learn and see the world differently, read this book.
--Jon Acuff, New York Times Bestselling author of Finish, Give Yourself the Gift of Done
This is one of the greatest books we've ever read.
--Leora and Michael Sr. (parents of Author)