You are here
Back to top
Crossing the Bar: The Adventures of a San Francisco Bay Bar Pilot (Hardcover)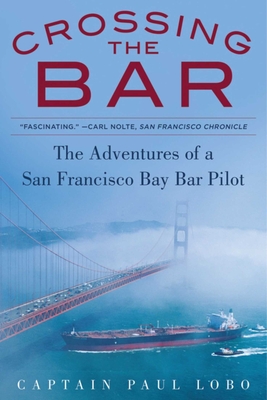 Description
---
There is nothing placid about San Francisco Bay. Its raucous waters have hosted brutal storms, daring rescues, horrendous accidents, and countless hours of drama and tension. Captain Paul Lobo knows that better than most people. As a licensed harbor pilot in those treacherous waters, Lobo captained nearly 6,500 boats in a thirty-one year career—everything from mega-yachts to the USS Enterprise to the Love Boat. Each trip tells its own story, and Lobo shares many. Here readers will find gripping, tense adventure stories, all well told.

Reading Crossing the Bar is like being on the rolling bridge with Lobo. Here are tragic deaths and lives saved, inspiring rescues, devastating storms, and the infamous and horrendous oil spill after the Cosco Busan rammed the Oakland Bay Bridge—which resulted in the first imprisonment of a maritime pilot for making an error.

Readers will also find a December sea rescue Lobo assisted with in hurricane strength winds and monstrous seas. Without Lobo's pilot boat and its crews' supreme effort, the ship they saved would have foundered on the rocky Marin County, California, coastline with the loss of all hands.

Skyhorse Publishing, as well as our Sports Publishing imprint, is proud to publish a broad range of books for readers interested in sports—books about baseball, pro football, college football, pro and college basketball, hockey, or soccer, we have a book about your sport or your team.

In addition to books on popular team sports, we also publish books for a wide variety of athletes, including books on running, cycling, horseback riding, swimming, tennis, martial arts, golf, camping, hiking, aviation, boating, and so much more. While not every title we publish becomes a New York Times bestseller or a national bestseller, we are committed to publishing books on subjects that are sometimes overlooked by other publishers and to authors whose work might not otherwise find a home.
About the Author
---
Captain Paul Lobo spent more than thirty-one years as a federally and state licensed First Class sea pilot and docking master, bringing 6452 vessels of every description from the treacherous waters of the Pacific Ocean, west of the Golden Gate Bridge, into San Francisco Bay. Now retired, he lives in Bermuda Dune, California.