You are here
Back to top
Celestial Navigation: using the Sight Reduction Tables Pub. No. 249 (Paperback)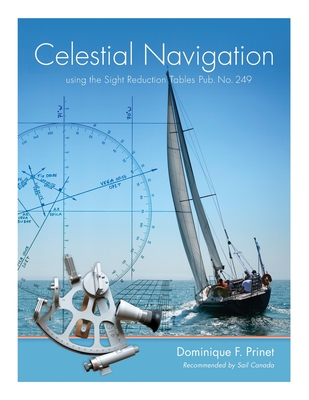 $22.19

Usually Ships in 1-5 Days
Description
---
This manual has grown out of all the courses given by Dominique Prinet, a certified Instructor-Evaluator for Sail Canada who has been teaching celestial navigation since 2000. It has benefitted from the thoughtful contributions of over 100 students. The aim of Celestial Navigation is to give a sufficient grounding in the subject to determine position at sea using a sextant for fixes on the sun, moon, stars and planets. Furthermore, the material presented will prepare a reader who wishes to pursue a Celestial Navigation Certificate through self-study.
The subject requires some comfort with the basic concepts of navigation, but the prospective navigator only needs to know how to add and subtract either times or angles. Lucid and well-paced, Celestial Navigation starts with fundamentals and definitions which ensure that a motivated student need not bring anything more to the table than his or her willingness to master the subject. Richly illustrated, it includes a chapter with more than forty pages of review exercises covering all topics. T
he cleverness of many of the concepts, explained here, will bring about great intellectual joy and satisfaction. Whether you are a recreational sailor or an individual pursuing professional certification as a navigator, Celestial Navigation will teach you what you need to know.