You are here
Back to top
You Are Here: An Owner's Manual for Dangerous Minds (Paperback)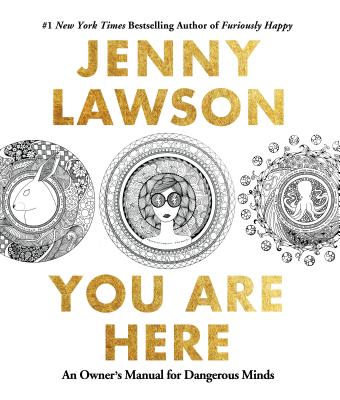 Description
---
INSTANT NEW YORK TIMES BESTSELLER

A new book from #1 New York Times bestselling author Jenny Lawson, destined to be a classic—part therapy, part best friend, part humor, part coloring book.

When Jenny Lawson is anxious, one of the things she does is to draw. Elaborate doodles, beautiful illustrations, often with captions that she posts online. At her signings, fans show up with printouts of these drawings for Jenny to autograph. And inevitably they ask her when will she publish a whole book of them. That moment has arrived.

You Are Here is something only Jenny could create. A combination of inspiration, therapy, coloring, humor, and advice, this book is filled with Jenny's amazingly intricate illustrations, all on perforated pages that can be easily torn out, hung up, and shared. Drawing on the tenets of art therapy—which you can do while hiding in the pillow fort under your bed—You Are Here is ready to be made entirely your own.

Some of the material is dark, some is light; some is silly and profane and irreverent. Gathered together, this is life, happening right now, all around, in its messy glory, as only Jenny Lawson could show us.
About the Author
---
Jenny Lawson is an award-winning humorist known for her great candor in sharing her struggle with mental illness. She lives in Texas with her husband and daughter and was constantly "buying too many books" ("Not a real thing," she insists), so she decided to skip the middleman and just started her own bookshop, which also serves booze because books and booze are what magic is made of. She has previously written Let's Pretend This Never Happened and Furiously Happy, both of which were #1 New York Times bestsellers. She also wrote You Are Here, which inexplicably made it onto the New York Times bestseller list in spite of the fact that it was basically a very fun coloring book. She would like to be your friend unless you're a real asshole. And yes, she realizes that this whole paragraph is precisely the reason she shouldn't be allowed to write her own bio.