You are here
Back to top
The Hearts of Horses (Hardcover)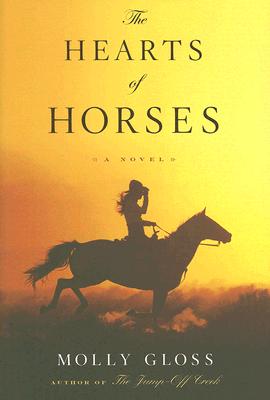 Spring/Summer '09 Reading Group List
---
"Molly Gloss tells a heartwarming story of a young woman who earns her way as a 'horse gentler' on the eastern Oregon frontier during the early 1900s."
— Sandra Palmer, Wy'east Book Shoppe & Art Gallery, Welches, OR
Description
---
This breakout novel from the author of The Jump-Off Creek tells the heartwarming story of a determined young woman with a gift for "gentling" wild horses.

In the winter of 1917, a big-boned young woman shows up at George Bliss's doorstep. She's looking for a job breaking horses, and he hires her on. Many of his regular hands are off fighting the war, and he glimpses, beneath her showy rodeo garb, a shy but strong-willed girl with a serious knowledge of horses.

So begins the irresistible tale of nineteen-year-old Martha Lessen, a female horse whisperer trying to make a go of it in a man's world. It was thought that the only way to break a horse was to buck the wild out of it, and broken ribs and tough falls just went with the job. But over several long, hard winter months, many of the townsfolk in this remote county of eastern Oregon witness Martha's way of talking in low, sweet tones to horses believed beyond repair—and getting miraculous, almost immediate results—and she thereby earns a place of respect in the community.

Along the way, Martha helps a family save their horses when their wagon slides into a ravine. She gentles a horse for a dying man—a last gift to his young son. She clashes with a hired hand who is abusing horses in unspeakable ways. Soon, despite her best efforts to remain aloof and detached, she comes to feel enveloped by a sense of community and family that she's never had before.

With the elegant sweetness of Plainsong and a pitch-perfect sense of western life reminiscent of Annie Dillard, The Hearts of Horses is a remarkable story about how people and animals make connections and touch each other's lives in the most unexpected and profound ways.
Praise For…
---
"Gloss has ... a permanent place on the shelf of American literature [featuring] smart, independent women." — Kent Haruf, "Plainsong," "Eventide"

"A shining example of Molly Gloss' gifts." -- Amy Bloom, "A Blind Man Can See How Much I Love You"

"An acutely observed, often lyrical portrayal … has as much to say about people as about horses." Kirkus Reviews

[Gloss] brings the period during World War I vibrantly alive.
Seattle Post-Intelligencer

Gloss ignores boundaries instead of defying them ... her re-creation of a romantic past and its irrecoverable dreams feels solid.
Seattle Times/Post-Intelligencer

"[An] affecting, timely novel that lays explicit emphasis on empathy as a yardstick of humanity." - San Francisco Chronicle

Not just a horse story or a tale of the West, Gloss's moving novel ... is a story not soon forgotten.
Bookpage

"Gloss's lyrical story follows the mesmerizing journey of 19-year-old Martha Lessen." - Hallmark Magazine

"A shining example of Molly Gloss's gifts." -- Amy Bloom ("Love Invents Us" and "Away")

"Molly Gloss has made herself a permanent place on the shelf of American literature." -- Kent Haruf ("Plainsong," "Eventide")

"The moving story of a ... strong-willed woman bucking society's norm to gently train horses without breaking their spirit." - Temple Grandin

"Gorgeous! Pitch-perfect ... utterly engaging ... deft." - Andrea Barrett (National Book Award winner "Ship Fever")

"Magnificent .. Molly Gloss has brilliantly recreated a bygone time and place." - Howard Frank Mosher ("On Kingdom Mountain")

"Truly, one of the best books you'll ever read." - Jane Kirkpatrick ("All Together in One Place")