You are here
Back to top
Sextant: A Young Man's Daring Sea Voyage and the Men Who Mapped the World's Oceans (Paperback)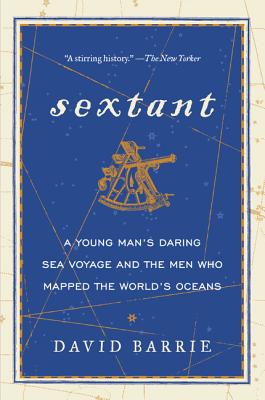 $16.99

Usually Ships in 1-5 Days
Description
---
In the tradition of Dava Sobel's Longitude comes this dramatic tale of invention and discovery—an eloquent elegy to one of the most important navigational instruments ever created, and to the daring mariners who used it to explore, conquer, and map the world.
Barrie takes readers straight to the helm of some of history's most important expeditions, interweaving these heroic tales with the account of his own transatlantic passage as a young man. A heady mix of adventure, science, mathematics, and derring-do, Sextant is infused with a sense of wonder and discovery. At once a dramatic history of maritime endeavor and a love letter to the sea and sky, it is timeless storytelling at its best.
About the Author
---
David Barrie has sailed in many different parts of the world and made many long passages. After serving in the British Diplomatic Service, Barrie worked in the arts and as a law reform campaigner. The great-great-nephew of J. M. Barrie, he is married with two daughters.
Praise For…
---
"As lovingly and painstakingly constructed as the navigators' one irreplaceable talisman, David Barrie's exquisite book is a hymn to a now-vanishing feature of maritime life, a finely-chased reminder of just how much we all owe to that one small piece of apparatus" — SIMON WINCHESTER, author of the New York Times bestselling The Men Who United the States and The Professor and the Madman
"Beneath the book's calm surface churns a melancholic message about how the comfort of technology — symbolized by the sextant's almighty antagonist, GPS — has turned our gaze away from the stars." — Entertainment Weekly
"Even for armchair adventurers with no sea legs to speak of, Barrie's Sextant is a compelling read." — Shelf Awareness